(2007 – 2008)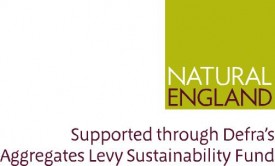 This project was delivered in partnership with GeoConservation UK, then known as UKRIGS, and supported by Natural England. It was intended to assist and invigorate the geoconservation movement across the country.
In a series of workshops, it brought together the county geoconservation groups and other individuals and organisations committed to supporting geodiversity within each region of England. It led to the establishment of regional geodiversity partnerships, which aim to give a voice for geodiversity in planning policy at a regional level and to facilitate the development and delivery of regional geodiversity projects.
As a result of this project, there are now functioning regional geodiversity partnerships in all regions of England, some of them particularly active. A list of all of the regional partnerships is given in Contacts.
In addition to the regional workshops, county geoconservation groups around the country were invited to write management plans for important aggregate sites in their area, thus helping to deliver on the objectives outlined in many Local Geodiversity Action Plans.
| | |
| --- | --- |
| Finally, a national workshop was held at which personnel from the key funders for geoconservation work (Aggregates Levy Sustainability Fund, Heritage Lottery Fund and the Curry Fund of the Geologist's Association) gave advice for applicants and outlined the latest news from their respective organisations. | |
| | |